About The Mulch Company
Since inception in 1985, The Mulch Company has been dedicated to providing the highest quality bulk mulch to residents in Tennessee at locations across the state. You can pick up mulch at any of these locations.
The Mulch Company also offers convenient delivery of bulk mulch direct to your home or business. You can order by telephone (in the local white pages telephone directory under MULCH) or online by clicking here.
Artwork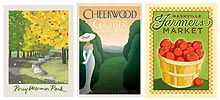 If you enjoy the artwork featured on this site and would like to purchase these as well as other similar illustrated art prints, please visit www.spiritofnashville.com.