Welcome to The Mulch Company
We offer same-day or next-day delivery. If you prefer to pick up your mulch, we have convenient locations listed here.
Why mulch?
Mulch reduces landscape maintenance by preventing weed growth. It also improves plant health by retaining moisture and insulating from soil temperature variations. Read more…
Our products
We have nearly a dozen different mulches and soils. Take a look at our products page for all of the details.
We offer same-day or next-day delivery. If you prefer to pick up your mulch, visit our convenient locations
listed here
.
Mulch reduces landscape maintenance by preventing weed growth. It also improves plant health by retaining moisture and insulating from soil temperature variations.
Read more…
Whether you are a landscaper looking for a new mulch supplier or a homeowner interested in mulching your flower beds, new trees or shrubs, or planting a vegetable garden, our mulches and soils are held to an unmatched standard of quality. This is the best Nashville mulch and soil!
You can place an order and have your mulch delivered, as we offer mulch delivery from all five of our Tennessee mulch yards. If you came to this website after searching "mulch delivered near me," "mulch on sale near me," "bulk mulch near me," "mulch near me," or a similar term, odds are we do deliver in your area. But type in your zip code on our order page just to be sure.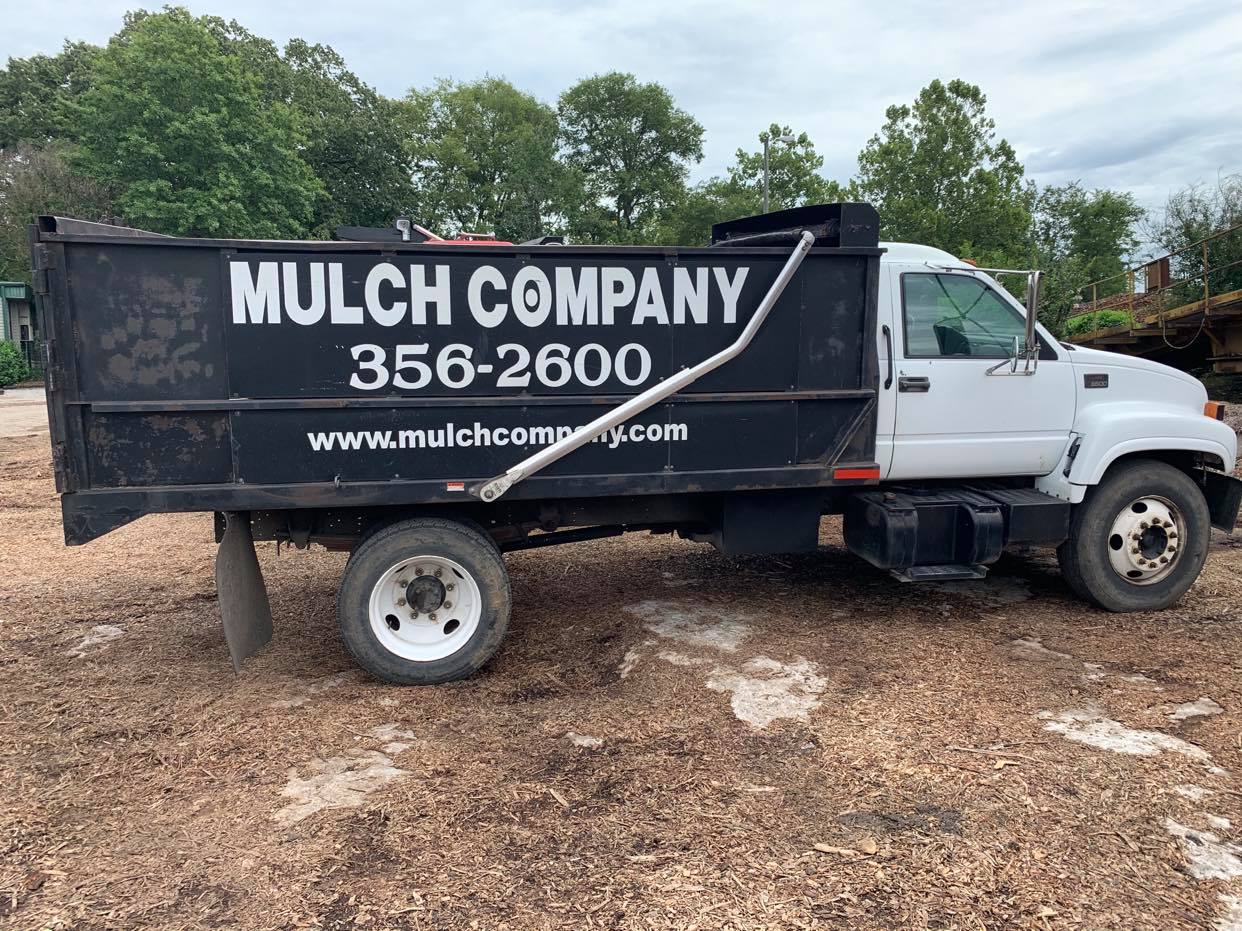 Why Choose The Mulch Company?
From homeowners to landscaping companies, shopping centers, hotels, universities, churches, and playgrounds, odds are you've already seen our mulch somewhere around Tennessee.
The Mulch Company is different because we get all of our mulch locally, bark from lumber mills and wood fiber from grinders. Our mulch is called "virgin mulch," because it is sourced directly from wood fiber grindings, bark, and leaves.
We do not use diseased trees, landscape refuse, or yard waste. The Mulch Company only makes virgin, 100% natural organic mulch. You can tell the difference when you see it. Click on over to our contact page to view our locations, and feel free to stop by and take a look at our mulches and soils!
The Best Nashville Mulch – Five Reasons to Use Our Mulch
For the best mulch in Nashville, gardeners and landscaper contractors alike come to The Mulch Company.
Here is just a brief look at what the best mulch will do for your yard, gardens, flower beds, and trees:
Tennessee is notorious for several weeks of extreme scorching summer weather. During this period, a lack of rain coupled with intense heat can kill the root systems of many plants, shrubs, trees, or flowers. But if mulch is placed at the base of such plants, the mulch retains moisture, assisting the plants in surviving the heat and dry weather.

Tennessee is also notorious for several weeks of extreme cold winter weather. Temperatures drop extremely low, potentially killing plants at their roots due to frost. Mulch acts as a natural insulator, preventing frost and cold temperatures from reaching the precious plants' root systems.

Mulch prevents the spread of weeds! To stop weed growth, you must prevent the weeds from germinating. That is one of the core purposes of good mulch. Quality mulch means less time spent weeding, which means you get more time to enjoy your garden and landscaping.

Mulch is aesthetically pleasing. It is a 100% natural product that looks great, and it adds a lovely, finishing touch to an outdoor space.

Mulch is an excellent investment. When you spread mulch in your flower bed or around your trees or shrubs, you are spending very little money to protect a much larger investment in the trees, shrubs, and gardens you've worked so hard to cultivate.
Mulch is a staple of a good garden. Call 615-356-2600 to place an order, or click on over to our order page.
A COVID-Safe Business – Nashville Mulch Supplier Purchase Options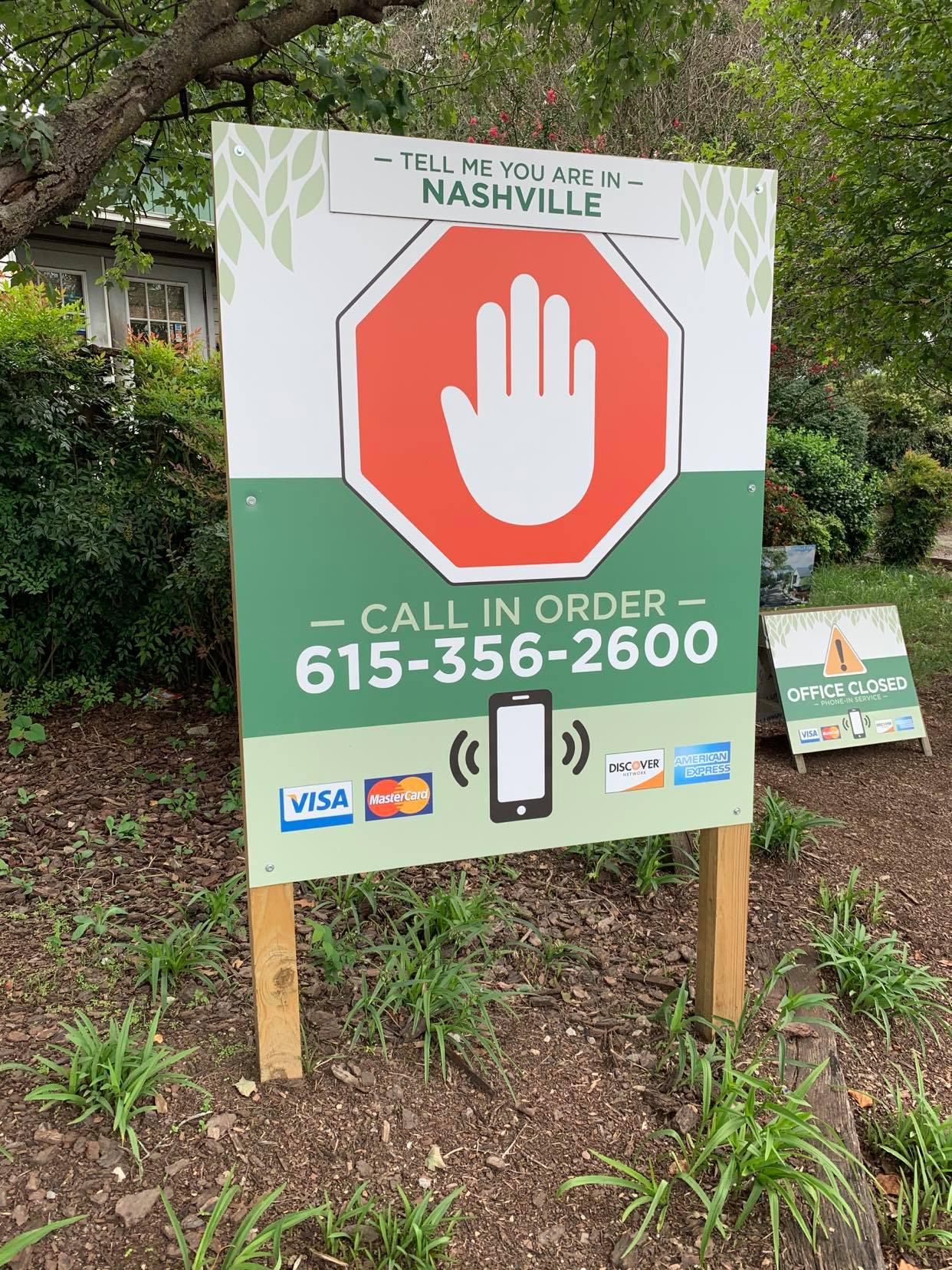 Since 1989, The Mulch Company has had a no lay-off policy, meaning we never lay anyone off for economic reasons. With that policy at the forefront of how we do business, we've kept all five of our locations open, despite the COVID–19 pandemic.
However, we've significantly adjusted how we do business to keep our employees and customers safe.
We still offer same-day or next-day mulch delivery, keeping you serviced with all the mulch and soil you need for your outdoor projects. And if you prefer to pick up your mulch in person, we now provide drive-through mulch! Simply arrive at any one of our mulch yards in:
Nashville
Murfreesboro
Dickson
Once you've arrived, pull in front of the large "Stop!" sign in front of the mulch yard. Call the number on the sign, tell our office manager which yard you are at, place your order, pay over the phone, then drive in and receive your order. You can do all of this without ever having to leave the safety of your vehicle!
And of course, you can still order mulch from our website and have it delivered direct to your home. Contactless delivery and pay options are available, keeping your family safe and protected.
We'll get through COVID–19 together! And in the meantime, why not stay at home and work on that vegetable garden, flower bed, landscaping, or tree line? We have the best mulches and soils to support your outdoor spaces and keep them looking fantastic year after year.
Getting Started with the Best Mulch in Nashville!
Ready to place your order for mulch or soil? You can take the first step to having great-looking, 100% organic and natural mulch in your yard or garden by calling our office at (615) 356.2600, or by clicking on over to our order form. We look forward to hearing from you!
Get In Touch
Have a question or need some guidance? Send us a note here.